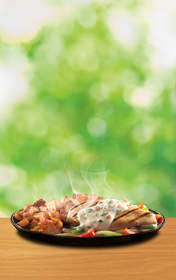 DineEquity, owner of Applebees and IHOP brands, is trying smartly trying to avoid discounting their menu like the rest of industry. Their strategy to get customers in the door focus on appealing healthy "skillets" price at $9+ which currently make up about 10% of sales.
The "2 for $20" deal of an appetizer and two entrees now makes up 18% of Applebee's sales mix, down from around 20% in previous quarters, Stewart said. Applebee's promoted that offer through most of last year but has since made it a mainstay on the menu that's not supported prominently by ads.Applebee's margins rose slightly last quarter, to 14.1% to 14%, helped by lower food costs, although that was offset partly by more marketing to try to bring in guests.

Same-store sales were down 1.6% at Applebee's systemwide, an improvement from prior quarters, while guest counts continued to decline on year.